2015 Big E Recipe Contest Winners
The Massachusetts Maple Producers Association hosted its first annual Massachusetts Maple Syrup Dessert Contest at the Big E on September 29, 2015. These are the winning entries.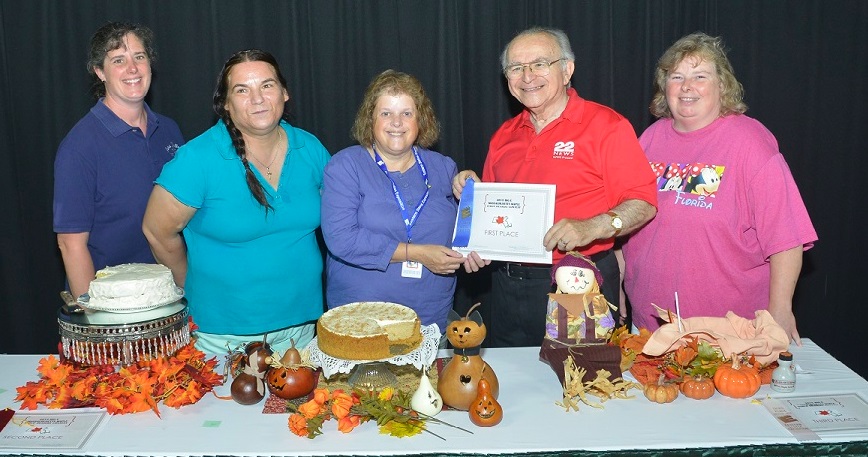 First Place Winner
Maple Cheesecake with Sour Cream Topping
2 cups graham cracker crumbs
3 T. sugar
1/2 t ground cinnamon
1/3 c melted butter
Filling:
1 1/2 c pure maple syrup
3 pkg (8 oz.) cream cheese softened
1/3 c packed brown sugar
2/3 c sour cream
3 T. all purpose flour
2 t vanilla extract
1/4 t salt
4 large eggs, lightly beaten
Topping:
2 cups sour cream
1/2 cup sugar
1 t vanilla extract ground cinnamon
Place a greased 9 in. springform pan on a sheet of aluminum foil. Wrap foil around pan.
In a small bowl combine cracker crumbs, sugar and cinnamon. Stir in butter. Press onto bottom and up sides of springform pan. Place pan onto baking sheet. Bake at 375 degree oven for 10 minutes. Reduce heat to 325 degrees.
For filling, in a small saucepan, boil maple syrup until it is reduced to 1 cup. Cool. In large bowl, beat cream cheese and brown sugar until smooth. Beat in sour cream, flour, vanilla, salt and cooled syrup. Add eggs, beat just until combined. Pour into crust. Place springform pan in a large baking pan and add 1 in. hot water to large pan.
Bake at 325 degrees for 1 hour or until center is just set.
In a small bowl combine sour cream, sugar and vanilla. Spread over filling. Bake 8 minutes more. Cool for 10 minutes. Carefully run a knife around edge of springform pan. Cool 1 hour more. Chill overnight. Remove sides of pan. Dust with ground cinnamon.
By: Denise Hills, Russell, MA
---
Second Place Winner
Grandma Fran's Maple syrup cake
2 – 8″ round cake pans
1 1/2 cups of flour
1 cup of maple syrup
3 tsp of baking powder
1 tsp of salt
1/3 cup of shortening
2/3 cups of milk
3 eggs
Cool Whip original 8 ounce container
Preheat the oven to 350 degrees then grease and flour your baking pans.
Sift your flour, sugar, baking powder, and salt together.
Add the shortening and half of the milk. (Presoften the shortening)
Beat this tor 2 minutes then add the remaining milk, egg and maple syrup
Beat it all together for 2 minutes
Pour the mix in the pans and bake for 25 to 30 minutes
While the cake cools you make the frosting
Maple syrup and two egg whites
Separate the egg whites then whip them until they are stiff. Then add 3/4 of a cup of maple syrup. Next add 4 ounces of Cool Whip.
Frost and serve.
By: Frances Tesssier, East Hartford CT
---
Third Place Winner
Maple Crispy Rice Bars
2 10-oz. pkgs. marshmallows
3/4 cup butter
12 cups crisped rice cereal
For Filling:
1/4 cup Massachusetts Maple Syrup
8 oz cream cheese
4 tbsp softened butter
2 tsp vanilla extract
2 cups powder sugar
Combine one package of marshamallows and half butter in a large microwavable bowl. Microwave on high for 2 minutes. stir until smooth, then microwave for one more minute. Stir in 6 cups of crisped rice cereal. Mix well. Then press firmly into baking pan. Then prepare filling by mixing syrup, cream cheese, softened butter, vanilla and powdered sugar. After mixing until smooth, spread over first layer of cereal mixture. Then microwave the rest of the butter and marshmallows for 2 minutes. Then add in rest of cereal. After smooth, spread over maple mixture. Let cool for 5-10 minutes.
By: Kathy Wilson, Chicopee, MA