News
Massachusetts maple sugarmakers win big at international competition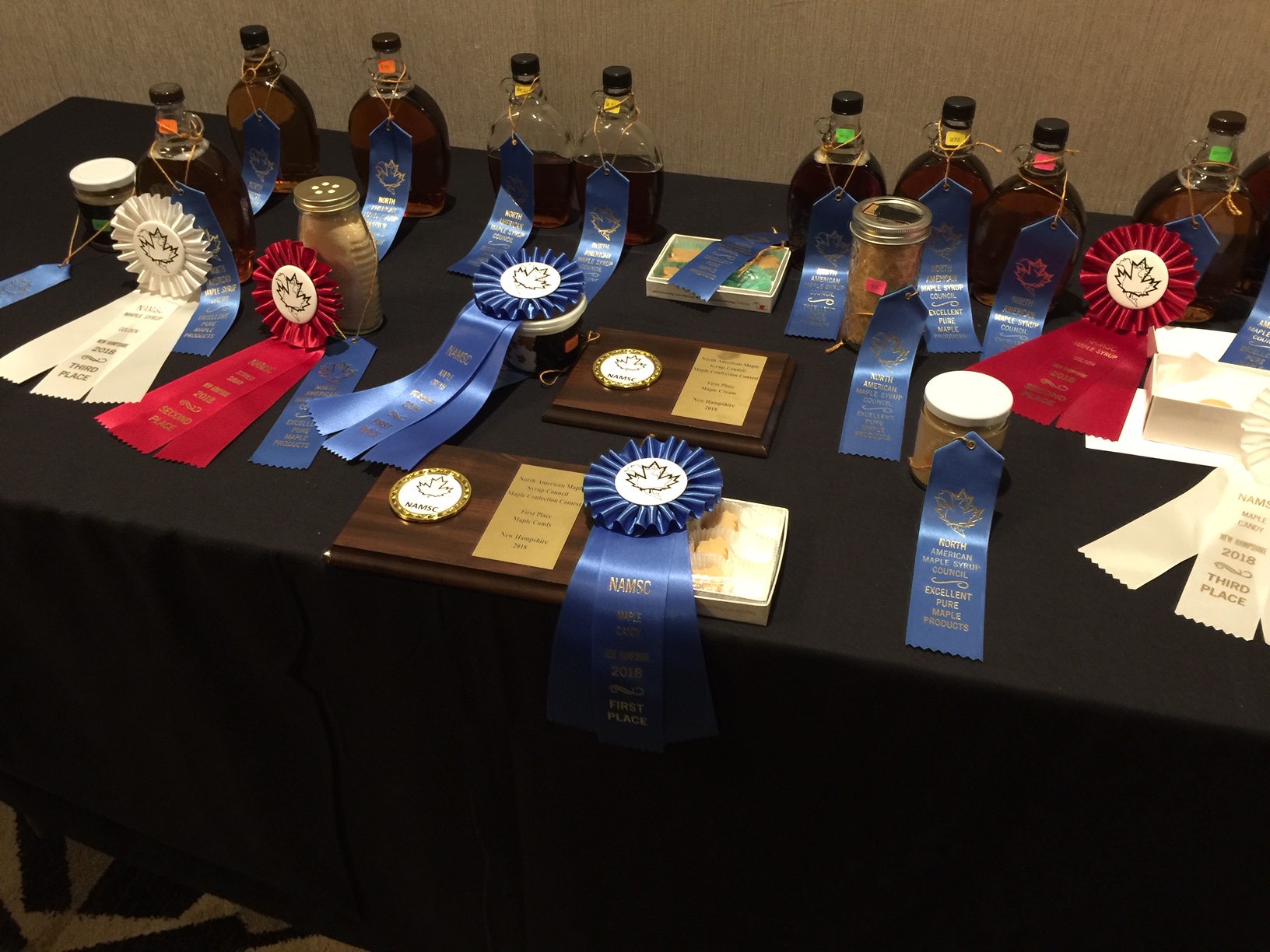 November 6, 2018
FOR IMMEDIATE RELEASE
Contact: Winton Pitcoff, 413-628-3912, [email protected]
Massachusetts maple sugarmakers win big at international competition
Pure maple products made by Massachusetts maple syrup producers were once again proclaimed to be the best in the world, as four of the state's sugarmakers took home prizes from the North American Maple Syrup Council's annual competition, held this year in Concord, New Hampshire.
The six prizes collected by Massachusetts producers was more than any other U.S. state or Canadian province, and one sugarmaker – Keith Dufresne of Williamsburg – claimed three ribbons, more than any other entrant. Massachusetts' winners were:
Maple Candy: 1st place, Howard and Jeanne Boyden, Boyden Brothers Maple, Conway
Maple Candy: 3rd place, Keith Dufresne, Dufresne's Sugar House, Williamsburg
Maple Cream: 1st place, Keith Dufresne, Dufresne's Sugar House, Williamsburg
Granulated Maple Sugar: 2nd place, Melissa Leab, Ioka Valley Farm, Hancock
Golden/Delicate syrup: 2nd place, Keith Dufresne, Dufresne's Sugar House, Williamsburg
Golden/Delicate syrup: 3rd place, Sean Davan, Woodville Maples, Hopkinton
The winners represent the breadth of the maple industry in Massachusetts. Dufresne is one of the state's larger producers, with 6,000 taps, and his family has been making maple syrup for more than 100 years. Davan is a smaller producer, with just 200 taps, and started sugaring in 2006. Ioka Valley Farm features a sugarhouse restaurant open for breakfasts during the sugaring season. Third-generation sugarmaker Howard Boyden is president of the Massachusetts Maple Producers Association. Not only did Massachusetts win more prizes than any other maple-producing state or province, they won in every category – syrup, candy, cream, and granulated sugar – showing off the wide range of pure maple products available from local sugarmakers.
Pure Massachusetts maple syrup is one of the healthiest sweeteners, since it is fat-free and all-natural, with fewer calories than most other sweeteners. Pure maple syrup also contains minerals, antioxidants, and amino acids not found in other sweeteners.
There are more than 250 maple sugaring operations in Massachusetts, many of which sell their products directly to consumers at farmstands and farmers markets. A directory of sugarmakers who sell maple products to the public can be found at www.massmaple.org.
The Massachusetts Maple Producers Association is a non-profit organization dedicated to the preservation and promotion of maple sugaring in Massachusetts.
---
‹‹ Return to full list of news articles