News
Sweet success: Boydens win awards for maple products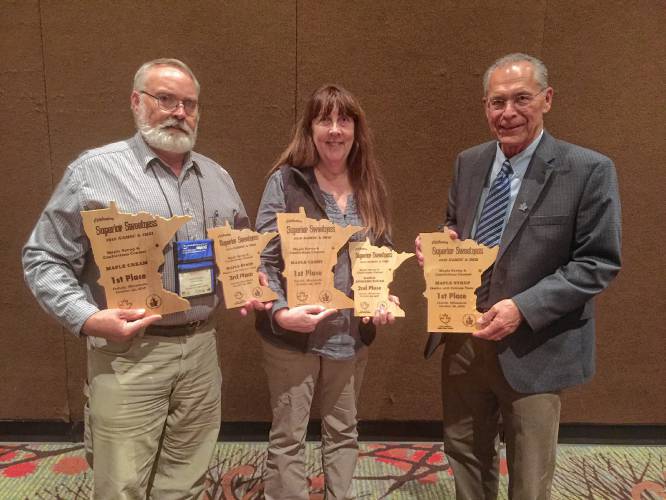 Greenfield Recorder, 10/24/19
CONWAY — You could hear Howard Boyden's excitement over the phone as he talked Thursday morning about the multiple awards won the night before in Duluth, Minn.
Boyden and his wife, Jeanne, traveled to Duluth last Saturday to attend the annual North American Maple Syrup Council's international maple competition, where they took first place for both their maple candy and maple cream, second place for their granulated maple sugar and third place for the golden grade delicate syrup. He said Jeanne has won first place three times for her candy.
"That's a big accomplishment," he said.
There were 75 entries in each category, Boyden said, with maple sugarers competing from throughout the United States and Canada.
"We've been doing this a long time," he said via cellphone as he sat on a tour bus in Duluth. "We've made a lot of mistakes over the years, and that's how you learn and get better."
The Boydens planned on flying back to Massachusetts on Friday, after spending the week at the conference and touring maple sugar operations throughout that area.
In addition, Mike Girard of Girard's Sugarhouse in Heath won first place for his golden grade maple syrup.
"Franklin County sugar makers had the highest concentration of maple accolades in the world," said Massachusetts Maple Producers Association Coordinator Winton Pitcoff, who attended the event. "This shows that sugar makers in the area are the right size — they're big enough to invest in operations so they can use the latest technology and equipment, and small enough that they can provide personal care in their products to make them the best they can."
The 60-year-old Boyden has been maple sugaring for as long as he can remember, he said. He picked up the trade from his grandparents on both sides and is now working with his own two sons, Matt and Josh.
Boyden said a different town hosts the maple competition each year, and about 300 people attended Wednesday night's event.
"Jean and I got a lot of exercise walking up to receive our awards this year," he said. "Everyone here was very gracious."
This past season, Boyden said he had about 3,000 taps that produced 892 gallons of syrup, which is a little more than usual. He said the season started Feb. 15 and ran through April 1.
Sugaring season in Franklin County typically starts in late January or early February, when nights are still cold, but days are warming up, Boyden said. It typically ends around mid-April — some years earlier, some later. The entire month of March is usually the peak of maple sugaring season, earning the distinction of being Massachusetts Maple Month.
The Boydens recently invested $33,000 in a new evaporator, so he said they'll be doing this for years to come.
Boyden's maple products are sold at Baker's Store and Natural Roots, both in Conway; Pekarski's Sausage in South Deerfield; Apex Orchards in Shelburne Falls; Food City in Turners Falls; and Flat Hill Orchards in Leominster.
---
‹‹ Return to full list of news articles